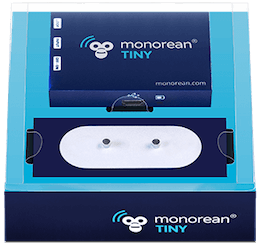 Monorean Tiny Guide
The basic version of the Monorean earpieces.
The spy earpiece
The spy earpiece included in Monorean consists of a concealed in ear spy earpiece (or we may say inside-ear) that you'd put inside of your ear canal and will allow you to listen to a phone call or listen to your MP3 files stored in your MP3 player or phone, that is, it'll work as an invisible spy earpiece for MP3 or phone calls. Once the spy earpiece correctly installed into your ear it will be completely invisible. The wireless spy earpiece Monorean has been specifically designed for exams, you could perfectly call it a spy earpiece for cheating.
But… what is a spy earpiece?
In short, it's a spy nano earpiece. A tiny wireless earpiece. If you have your Monorean unit with you, you'll be able to see it includes two spy nano earpieces as in the following image:

A pack of two invisible mini spy earpiece Monorean included in the wireless spy earpiece kit Monorean.
If you still don't have your Monorean with you, you can get your spy earpiece online: Buy spy earpiece Monorean, in our opinion the best spy earpiece.
An invisible spy earpiece
The hidden spy earpiece won't be visible by an observer during your exam, not only because it is a small earpiece but due to the fact that the earpiece will be placed inside of your ear canal, close to your eardrum. It is an unseen spy earpiece. Remember it is a wireless earpiece, no cable will be coming from or to your ear.
Nobody around you will be able to see the spy earpiece.
A quiet earpiece
But more importantly, the spy earpiece Monorean won't be heard from the outside. Our Monorean spy earpieces are designed so that even the slightest sound won't escape your ear. Sometimes this is hard to assimilate for your brain as you'll be hearing the spy earpiece perfectly well. You may start having doubts during the exam and you may start to wonder if the wandering teacher is hearing you.
Nobody around you will be able to hear the unseen earpiece.
Before using the Monorean, install the micro spy earpiece kit, set the volume to max and ask a friend to put his hear next to yours so that he can double check for you that he is not able to hear anything. This way you'll gain confidence in the spy earpiece Monorean and you won't have any fear or uncertainty during the exam.
Ask a friend to double check he can't hear the spy earpiece from the outside.
Due to its design, the spy earpiece won't need battery nor any maintenance—we are just referring to the earpiece, the Monorean control box does have a battery. For this reason it is the most reliable secret spy earpiece in the world and the device many customers trust on for cheating in their tests.
The volume and sound quality of the spy earpieces Monorean are perfect to establish a conversation with your partner during the exam. In order to accomplish a correct installation it is strictly necessary that the hidden earpiece is correctly put into your ear.
IMPORTANT: In order correctly install the Monorean earpieces read: Correctly installing the spy earpiece
Is a spy Bluetooth earpiece?
This is a very common question and a broad misconception among people interested in a spy Bluetooth earpiece set. Usually the confusion comes from Monorean having the Bluetooth spy earpiece and an inductive transmitter. Specifically the spy earpiece for cheating Monorean will receive the audio signal from its inductive transmitter, the Monorean's collar, that you'd have around your neck. This connection between the spy earpiece and the collar is not Bluetooth but an specify protocol used by Monorean. When we, at Monorean, refer to the Bluetooth connection we refer to the connection between the control box and your cell phone.
The connection between your cell phone and Monorean will be established through Bluetooth only in our version of micro Bluetooth spy earpiece Monorean Pro. Our spy earpiece Monorean Tiny will connect to your cell phone with a stereo cable—without Bluetooth.
Is it for spies?
We like to think it isn't, but… why not? The spy earpiece Monorean has been conceived specifically for cheating on tests or exams and while it's true many people refer to the hidden or invisible earpieces for exams as spy earpieces or spy earpiece for cheating and while it's true a spy could use a Monorean invisible earpiece for his/her endeavour, the spy earpieces Monorean are focused on cheating on tests and every single detail of Monorean's design is crafted, precisely, for exams. For this reason we think it is one of the best ways to cheat on a test if not the ultimate.
Many newcomers that don't know Monorean's cheating technique usually refer to Monorean as a spy earpiece and many people refer to them also as: mini gsm spy bluetooth wireless earpiece, spy magnetic earpiece, micro bluetooth spy earpiece, micro earpiece, nano micro earpiece… as you can tell, a wide variety of terms. Honestly, we like to call Monorean just a hidden earpiece—for exams if you wish.
If you are a spy 👀 get in touch with us and let us know how you use Monorean as a spy earpiece.