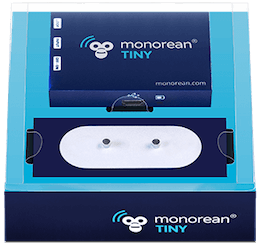 Monorean Tiny Guide
The basic version of the Monorean earpieces.
Installation earpiece with cell phone
Monorean Tiny will allow you to connect the earpiece to the phone and place a phone call to your partner and chat with him/her during the exam in a discrete manner. If you'd like to use the Monorean Tiny to listen to your own recordings during the exam, that is, to use the invisible earpiece for MP3, you can checkout the following section: How to connect the invisible earpiece to an MP3 player.
How to connect the earpiece to the phone
Charge the control box through the connector with the label: to your computer with the USB cable. Check that your computer's USB port is in perfect condition. Keep the computer on while the control box is charging.

Store the device fully charged.

The battery indicator ( ) will be red indicating: charging. It'll be fully charged once the indicator turns green.

Place the inductive collar around your neck and connect it to the connector with the label: .

Introduce the hidden earpiece into your ear.

In order to correctly put the earpiece into your ear read: How to put the hidden earpiece

Connect the 3.5mm stereo cable to the control box via the "INPUT" connector: .

In order to connect the hidden earpiece to your phone, connect the other end of the 3.5mm stereo cable to your cell phone.
If you own an iPhone 7 or above, you'll need a Lightning adapter for 3.5mm stereo plugs.
Attach the microphone connected to the induction ring to your shirt collar.

Turn the control box on using the "ON-OFF" switch
How to use the earpiece during the exam
Once the hidden earpiece connected to your cell phone you'd simply need to head to the exam and place or receive a phone call. You'll listen to through the invisible earpiece hidden inside of your ear. Speak into the microphone to communicate with your partner.
Dial before the exam
With Monorean Tiny in order to attend a phone call or place a phone call you'd need to physically access your cell phone. Many Monorean users dial their partner before entering the exam room. This way you'll start listening to your partner through the hidden earpiece before entering the exam room and you won't need to touch or access your phone once the exam starts.