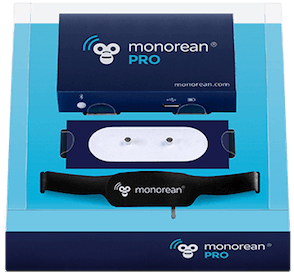 Monorean Pro Guide
The advanced version of the Monorean earpieces.
Microphone
The Monorean Pro kit includes a highly sensitive microphone that will allow you to talk with your partner during a exam with a slight whisper. It's use is optional and you simply need to connect it tot he connector with the label:
.
The length of the cable allows the microphone to be placed anywhere on your person.
How sensitive is it?
This is—understandably—a very common and question. The Monorean Tiny's microphone has been specifically designed to capture a slight whisper in a quiet environment very common in a exam situation. However you need to understand that when you try to speak very low you tend to stop vocalizing and instead of talking you emit humming sound that will be incomprehensible even if you'd be literally speaking directly to the ear of your partner-without a microphone. This is the trick to properly using the microphone, you should pay attention to vocalizing as well as speaking as low as possible.
Vocalize as much as possible when speaking—whispering into the microphone.
Tips
Using the Microphone Correctly
When speaking into the microphone, you might generate unwanted noise if you hold it directly in front of your mouth, as a result of air hitting the microphone when you speak. Instead of speaking directly into the microphone, place it slightly to the side of your mouth.
If the microphone is covered with fabric, (for example concealed under your shirt) you can talk directly into the microphone without generating unwanted noise, however you should avoid the microphone rubbing against your clothes as this would also generate unwanted noise.
Do not place too many layers of clothing over the microphone as it could become less sensitive.
Hiding the microphone
One of the most recommended places to place the microphone is on the wrist as you will be able to cover your mouth when you speak into the microphone. This way you can not only hide your lips while you are whispering but you will be able to create a "box" with your hand to amplify the sound that will reach the microphone.