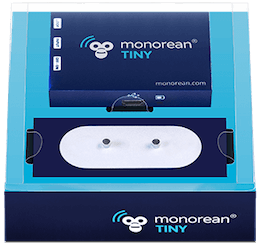 Monorean Tiny Guide
The basic version of the Monorean earpieces.
First steps
Congratulations, you have just purchased the highest quality communication product available on the market. Monorean Tiny has been designed and is constantly updated by the Monorean® engineering team. If you still haven't acquired your Monorean Tiny unit, you can purchase your hidden earpiece for exams from the Monorean Store: Hidden earpiece for exams Monorean Tiny.
The Monorean Tiny kit consists of a hidden earpiece inserted into your ear and the induction collar you'd put around your neck that will send the signal to the earpiece without any cable. You will be able to connect the Monorean Tiny control box to your MP3 player (read MP3 mode installation) or cell phone (read phone call mode) and listen to your own voice recordings through the earpiece during the exam or talk to the person on the other end of the line to provide you with a helping hand during the test.